I normally only post about sweets, but I tried this out last night for dinner
and it was so good I have to share it with you...
Bacon Avocado Grilled Cheese Sandwich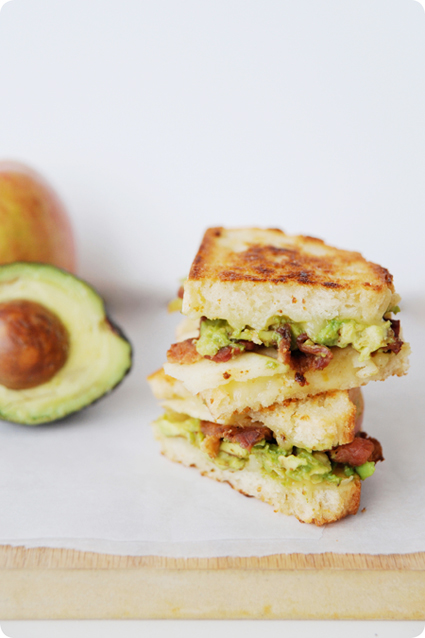 This recipe is simple:
sourdough bread
pepperjack cheese
avocado
bacon
and apple slices
(yes you read that right)
This recipe is not my own, I got it from
here
, and she doesn't say whether this is her own recipe or not (the photo above is hers), nor is she very specific about the recipe... but it's grilled cheese. Hard to mess up.
I toasted the sandwich with the cheese and bacon, and afterwards added sliced avocado and honeycrisp apples. I did it this way because I prefer both my avocados and apples cold. It made for a nice combo of hot and cold, and while I am not normally a fan of mixing fruit with things like meat (*hem hem* Hawaiian pizza - no thanks), the apple definitely made the sandwich. It took what would have just been a good sandwich to another level!
Trust me, you just need to try this. You can thank me later.